February 22, 2021
Inside the Life of a Digital Nomad ft Shirel Krafman
What's it like to live the digital nomad lifestyle? How do digital nomads work remotely and travel the world? Freelance designer Shirel Krafman gives us a glimpse into her journey and experience as a digital nomad, from challenges to actionable tips on being a location-independent freelancer.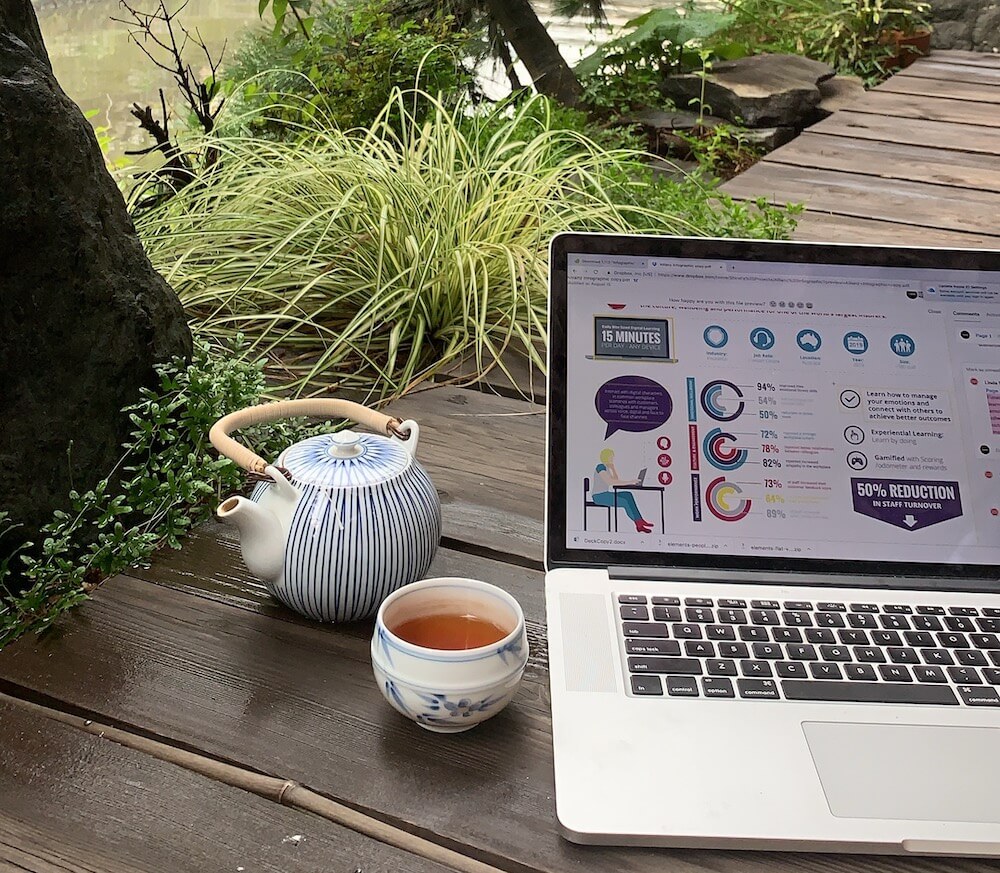 Absolute favourite office ever! A gorgeous hostel right by the beach in Ito, Japan with its own Onsen. K's House was an absolute pleasure!
First, tell us a little bit about yourself.  What's your background, and what are you doing now?
I'm Shirel! A designer from Toronto, but my roles are always so versatile and changing. I primarily work in the world of corporate graphic design, brand development and editorial, so I'm a Brand Designer. But I'm most interested in creating brand identities, typography and creative direction and lately have been dabbling in video editing. So really, I go by multidisciplinary designer – a highly adaptable one.
Most recently, I've been the Brand Designer for a Sydney-based digital wellness start up in parallel to finishing my final year of Creative Industries at Ryerson University and freelancing presentation design.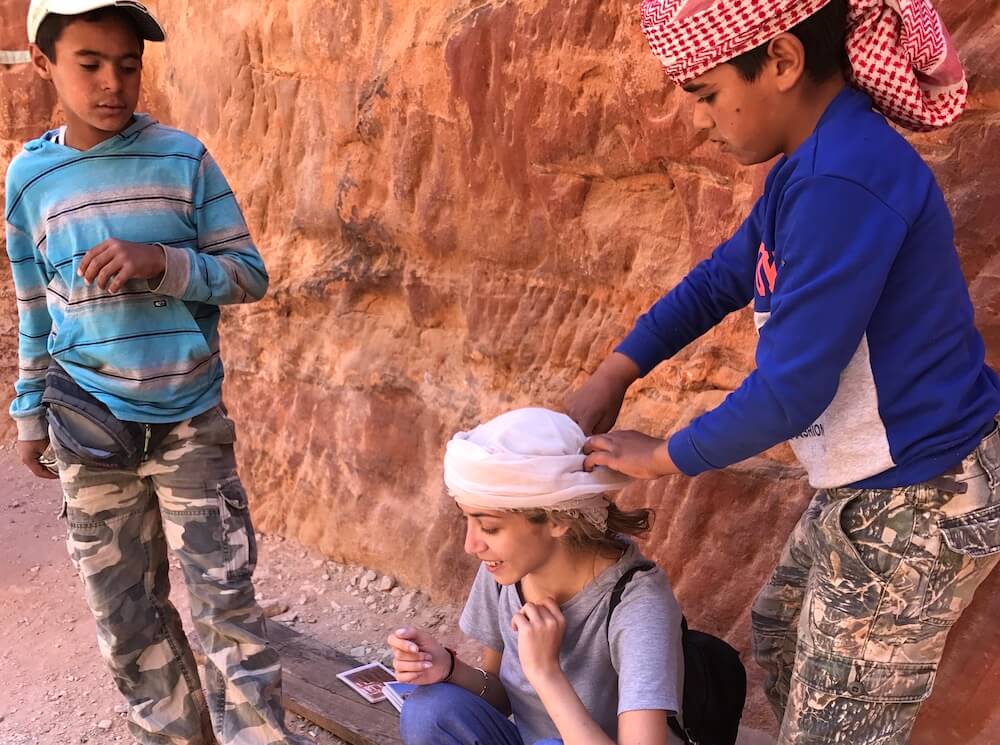 They might be future clients one day, who knows!
Why did you decide to become a freelancer and how did you make this transition?
My journey has been somewhat atypical. I started about 6 years ago as an eager marketing student on a few organizations that required light photoshop work for promotional posters and social media.
It gave me a glimpse into the creative expression that lacked in a business school environment and the artistic side of my brain fell in love with the storytelling element of it all. At the same time, the entrepreneur side of my brain drove me to grow it into a side hustle, eventually a small business and my dream career.
For me, freelancing is all about embracing new experiences and learning as you go. That's what made it so appealing. In the freelance environment, your best skills are your willingness to adapt and ability to foster relationships. Accepting new opportunities, adapting to new styles and learning from different employers has made me an overall better designer. You're constantly evolving as you're introduced to new projects, collaboration styles and industries that you wouldn't have crossed paths with otherwise.
What is one favourite and one most challenging part of being a freelancer?
Oh, the answer for this one is simple – freedom. I love that I have flexibility to take on more or fewer projects depending on my bandwidth. I can balance travel and work since all I need is strong Wi-Fi and my computer. I have control over my life whether I want to make money or taking time off so I don't burn out. It lets me schedule creative play time which I recently learned is so so important to anyone working in the creative industries if you want to be able to stay inspired. Freelancers get to build a life that reflects our values and what's important to us; who we want to work with, when we want to work and where. Being stuck at home for a majority of this year because of COVID gave me a taste of having a 'desk job' and I found it destructive to my creative process.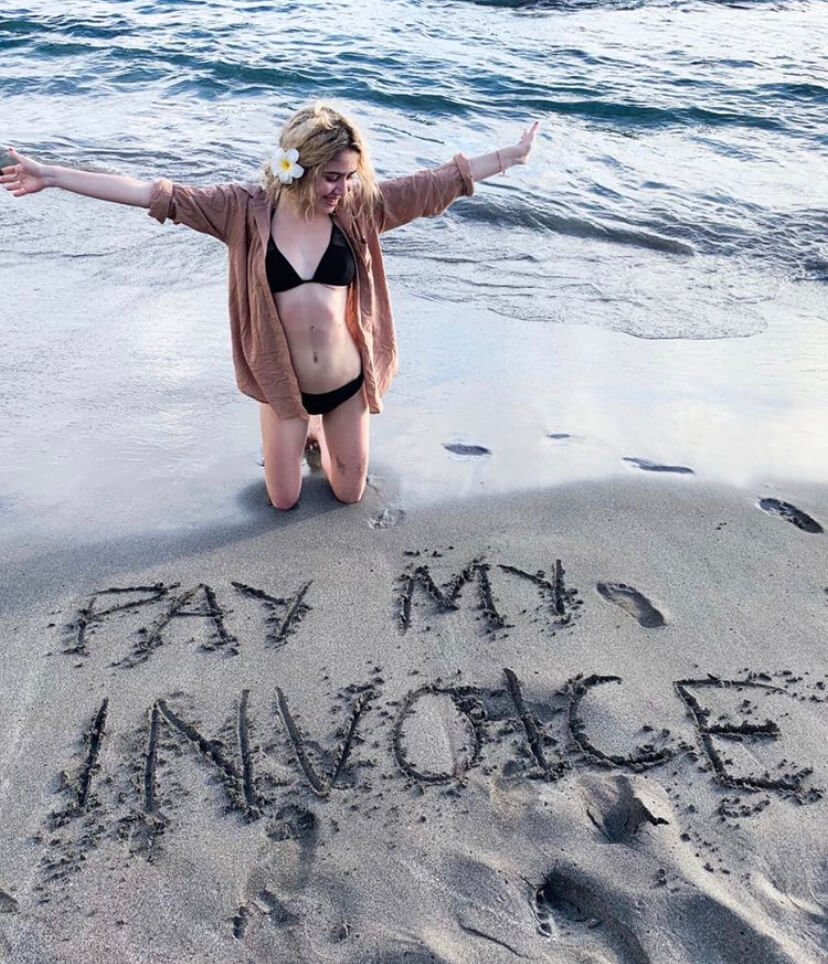 I mostly use Whatsapp to text my clients and this has been my profile picture since this 2019 trip to Hawaii.
The most challenging has and will always be figuring out what your worth is, and it's something I admit I still struggle with today. Negotiating isn't my strength, especially when I'm going through phases of imposter syndrome, and particularly as a young woman. There were projects I probably shouldn't have accepted, low ball offers, favours for friends, client red flags, anything that made me feel like I wasn't being treated fairly. But I look back at those experiences as character development. Every client was a learning opportunity and there's clients that will appreciate your confidence and ability to say 'no'.
Travel is a major part of my life as a freelancer (prior to the pandemic), how have you been able to find new clients and maintain relationships with existing clients while being location-independent?
Travelling is a huge contributor to the inspiration that keeps me creative. I stay innovative by surrounding myself with new spaces, experiences and new ways of thinking. I believe my creativity is the direct product of living in a state of gratitude, learning and being in the moment, and I'm all of that when I roam. If you stay present with everything and everyone around you and always take away something from every experience, you're guaranteed to find something that sparks an idea. Often – that comes from sparking up a conversation with a stranger. There's something magical in sitting alone in a coffee shop somewhere and building a connection in the face of cultural or language differences. I met a client while trying to keep my lunch down on a 300km/h bullet train in Japan. What started out as a recommendation to eat your noodles after you arrive at your destination ended up being a branding project a few months later.
But over the years the majority of my clients have been the result of referrals, keeping up with professional connections or making my own opportunities on freelance marketplaces/directories. The truth is, meeting potential clients is simple, but maintaining long-term client relationships is where the real work lies. Behind every potential client is a real person, and I found when I treat them like a fellow human and not just a 'job', work is plentiful. My secret is a personal and genuine approach with my clients. I think it's because I love getting to know people and the power of genuinely connecting with others. I go above and beyond for people I care about and that part of me has manifested in my work interactions as well. I've mailed postcards from cities I visit, sent memes when I see something they'd laugh at, checked in after their pitches and shared parts of my personal life as well.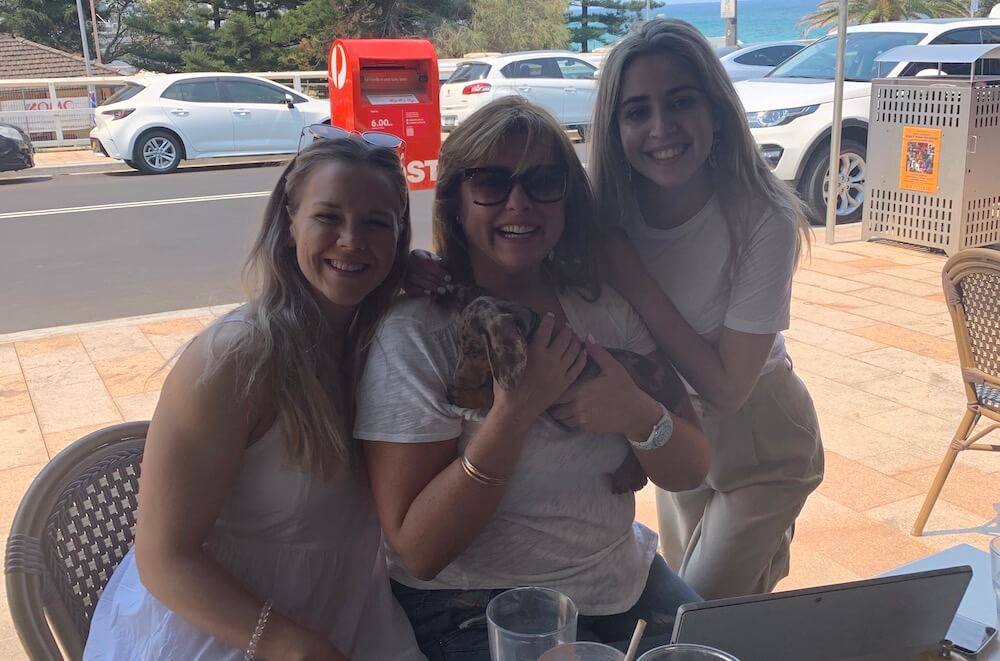 Meeting one client for the first time after 2 years of Zoom chats at a café in Bronte Beach. We were both so surprised at how short we actually were in person!
When I landed in Sydney in November 2020, I felt like I had family in a country I've never visited before. While we've never met in person, I've been working for some of my Australian clients for years! They offered to pick me up from the airport, a spare room in their homes, sight-seeing tours, Christmas gifts! I even went to the vet clinic with one of them and was invited for a pizza night at their apartment on my last few nights down under. It's more than getting the locals experience when I arrived though, the valuable relationships I've built while freelancing has made this career path so worthwhile.
In your opinion, what is the hardest thing about managing your work-while-you-travel lifestyle?
When you're travelling it's easy to fall into the rhythm of fellow travellers, or falling in love with a place so much you that you just want to spend all your time exploring. But a mentor once told me that if you love your lifestyle, nurture the business that keeps it sustainable. And I cannot stress enough how important it is to be strict with splitting your time between pleasure, production and the admin tasks your business needs to keep running. Freelancing requires discipline and to do that I remind myself that at the end of the day, I'm running a business. Time management and planning is vital, but also set aside enough time to enjoy your travels. Every place I visit, I will always book my stay at a hostel with a proper workspace, scope out nearby libraries, and search for laptop-friendly coffee shops.
How has the pandemic impacted your business & your travel?
Like many, international travel has been completely non-existent but I am grateful for a 3 week trip I took driving across Canada with one of my best friends this past summer. I packed a roaming stick, the biggest portable charger I could buy off Amazon and my gear and I'm proud to say that most of my work was done on the 60 hours we spent on the Trans-Canada Highway.
This pandemic has been hard on a lot of freelancers with cancelled contracts and the inconsistency of work but I was grateful to have long-standing, remote, contracts in place. In the fall, I did get into my head about the quality of my work throughout this entire year and decided a much-needed break was the only cure. I saw burn out creeping up on me and decided to take 2 months off to block off time for creative play, build back some mental strength and regain some focus. I ended up learning some new skills out of pure curiosity and it's been the best thing I've done for myself this year!
What tools do you use that have helped working remotely easier?
I've recently familiarized myself with the term 'tool agnostic' and I love it. I really back the idea that as freelancers, we're consultants and service providers, so if we're being hired to support our client, we've got to be able to work to their preferences. And being constrained to a particular tool or software will only limit you. There's obviously the basics I use daily – GSuite, a calendar, and any communication method (i.e. Zoom, whatsapp etc.). I'm a simple girl so for myself I keep everything in my phone in meticulously organized notes and calendar memos, and the almighty time zone widget that saves me from doing basic math on the daily.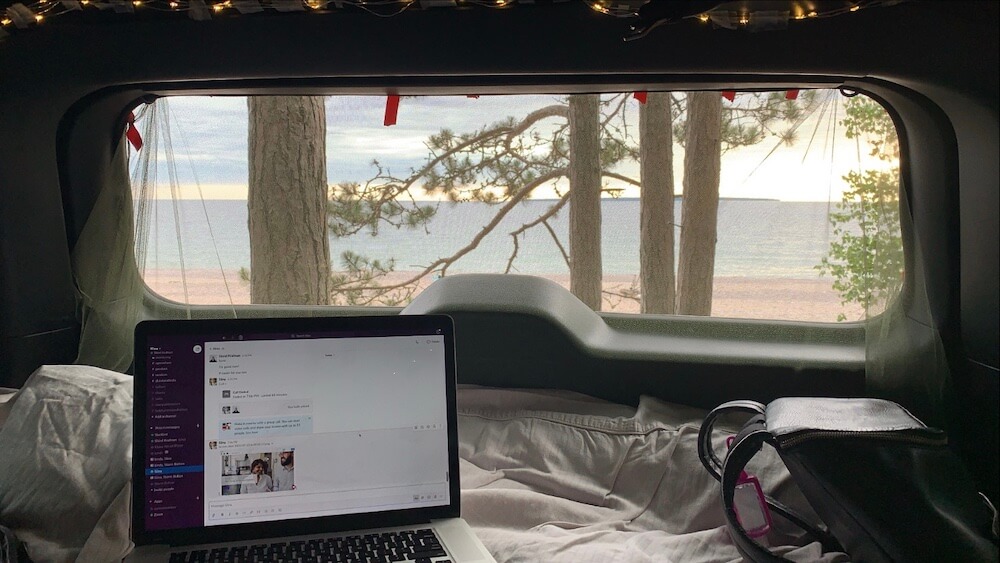 My office, bedroom and the trunk of our car somewhere in the woods in Canada
But as a contractor, my job involves adapting to my clients' existing workflows and that's different from country to country. So, I'm unbiased. If a client says they use Monday.com to track tasks or Asana as their collaboration platform. I'm adaptable to whatever my client presents me with, and don't get stuck on a favourite! Digital tools and workspaces are all there to facilitate a more efficient workflow and being open and able to navigate your clients' preference and management style makes you a more competitive freelancer.
Finally, what tips would you give for people wanting to follow in your footsteps and become a location-independent freelancer?
I love lists, so here's my takeaways:
1. Plan before going all in. It took me a while to get from my $50 logo projects in between lectures to where I am today. Try it out as a side hustle so you build the confidence, knowledge and momentum before making it your sole income.
2. Never stand still. Always keep moving, growing, learning, exploring, advancing, practicing in every sense of the word. Move within your network. Grow your skills. Learn in relation to yourself, your business, your clients' needs. Practice new skills. Advance old ones. Moving = staying relevant.
3. The only time you can take a break is for personal, all-fun creative play. I allow that. Incorporate that into your creative process.
4. Be your most authentic self. Your energy is what introduces your work and yourself to clients and what encourages them back.
WHO WE ARE
Women Who Freelance is a growing community of women freelancers and entrepreneurs in Canada, gathering together to network, collaborate, and thrive.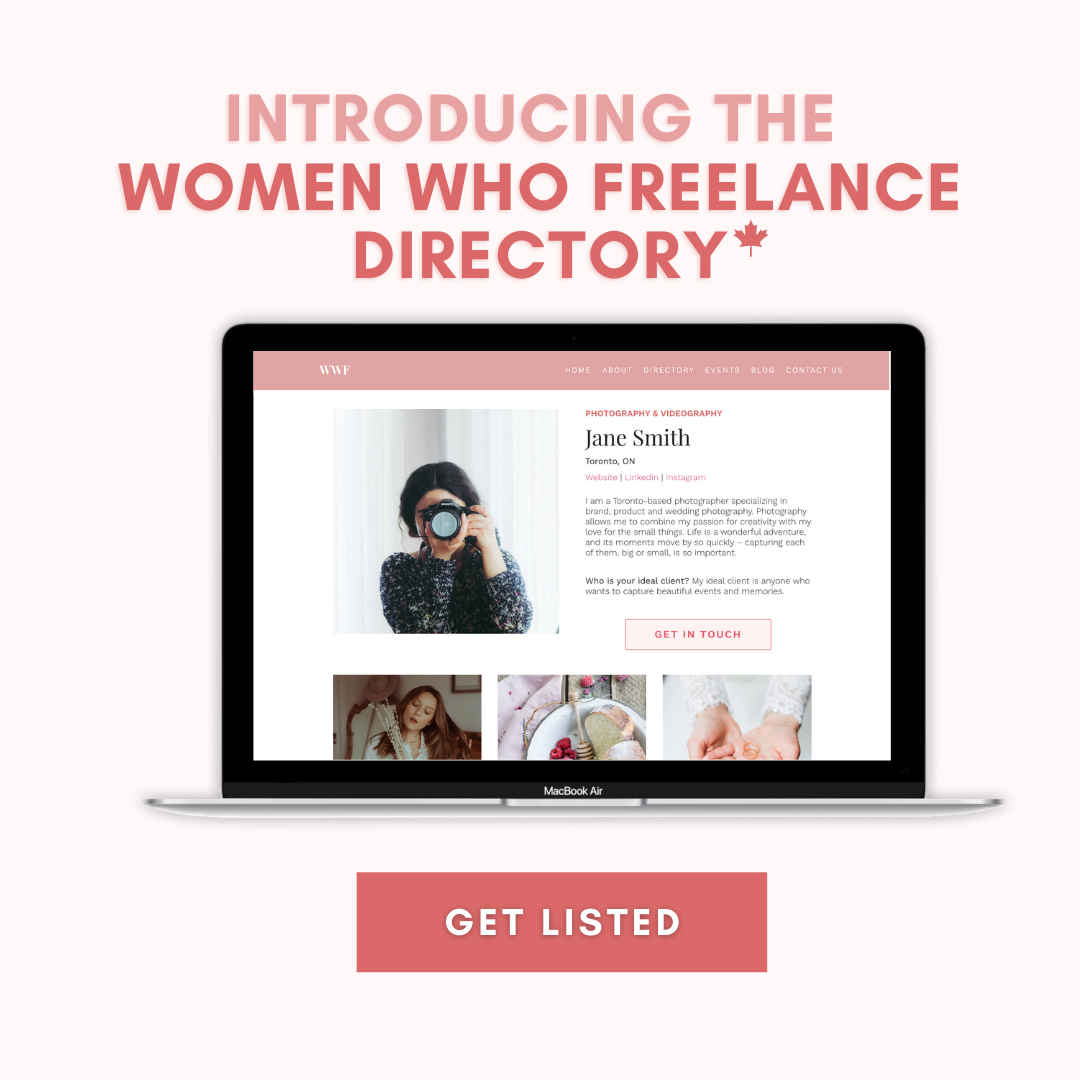 Explore the essential reasons why your small business should leverage the potential of Google My Business (GMB).
Discover the benefits of QuickBooks and some of the top tips from Sal Rezai, founder of Accounting By Sal.
This blog post explores how digital decluttering can dramatically improve your freelance work-life balance.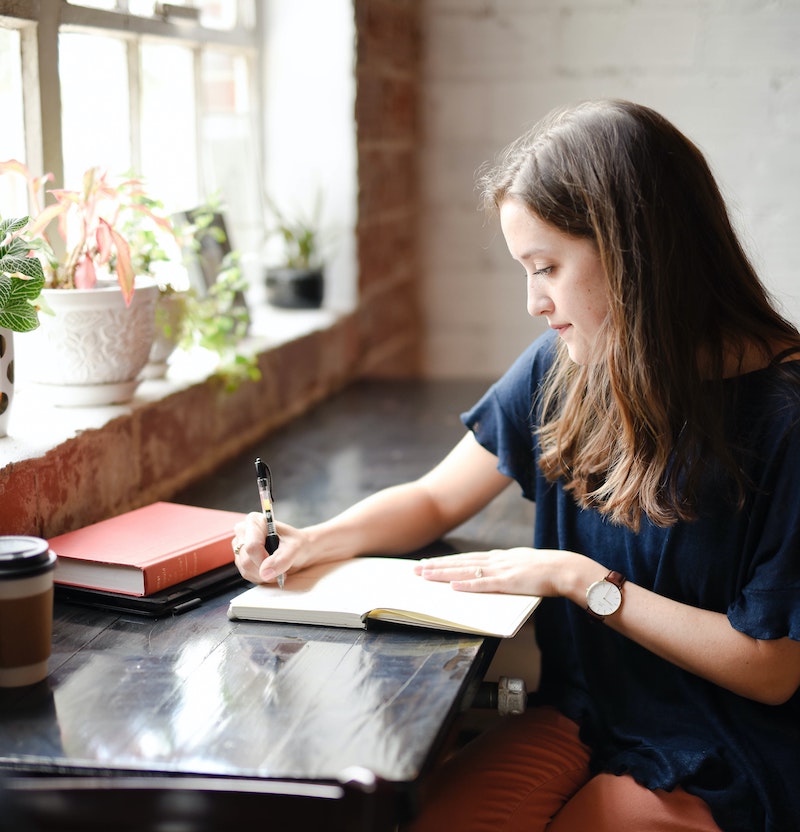 Become a contributor!
Do you have any practical freelancing advice you would like to share with the community? Become a featured guest writer for the Women Who Freelance blog. Give us a shout!