September 30th, 2021 | Written by Foster Creative
3 Essentials When Setting Up Your Businesses Branding Foundation
Brand Developers Natasha Kloyber and Marie Atienza, from Foster Creative, unearth 3 essentials when establishing a branding foundation for every freelancer's business.
What is a Brand Foundation?
Whether you are beginning your entrepreneurial journey as a freelancer, or are pivoting your business and are looking into re-branding, it is crucial to set yourself up for longevity by establishing a foundation to build your brand upon.
When the term 'brand foundation' is used it refers to creating a strong brand, within the beginning stages of setting yourself up, that way you can build the key pillars of your business. To break this down even further, let's clearly define what a brand is:
A brand is what your business is and is not, through visual, written and verbal communication. It's NOT just a logo.
Think of a brand as a person.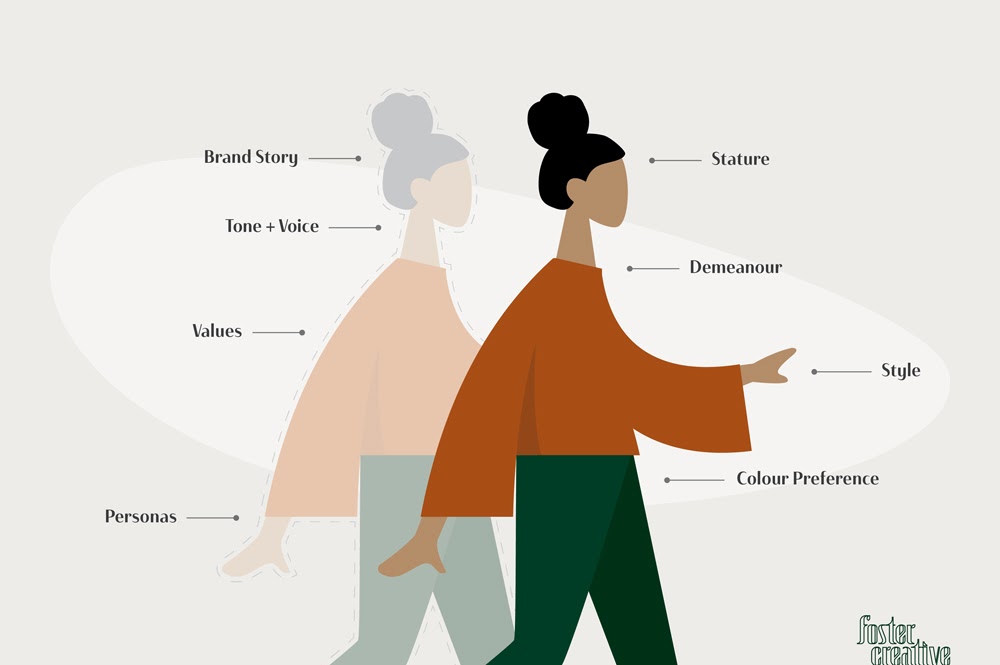 Graphic Developed by Foster Creative | Using the Power of Humaaans by Pablo Stanley
All the inner workings of a person, such as: personality, interests, values, tone + voice, personas and brand story, are the core attributes of a brand that you don't always see at first glance but learn about over time. They are the key elements that help ground a brand; like a conscience, they help in making smart business ("on brand") decisions.
While the outer appearance that everyone sees, such as: style + colour preferences, stature and demeanour, are the visuals everyone sees at first glance. Those visual identifiers help a user make a gut decision to interact with that brand to learn more about the business inner working.
When combined, you have the full power of a brand foundation that allows you to:
Build brand consistency that your audience will begin to recognize and value; your reputation will start to form, create an impact and aid in selling for you.
Strengthen and establish your position, within your market space, by leveraging your unique, one-of-a-kind, self.
Invest in your business with confidence, knowing that the groundwork you set up today will aid you along your journey. You are setting yourself for longevity!
Have clarity when mapping out or strategizing your services, products, courses, content, social media, photography, sponsorships, client interactions, etc…
What are 3 Essentials to Creating a Brand Foundation?
While a strong brand foundation consists of multiple elements; we have broken down 3 of the key essential aspects that every brand should have: brand story, primary persona and brand values.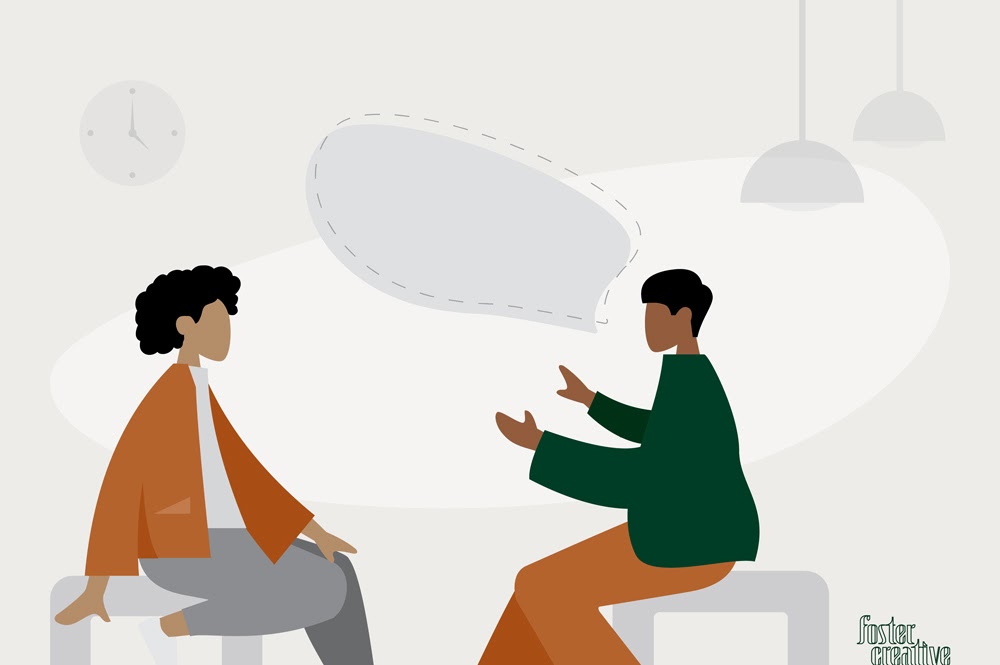 Graphic Developed by Foster Creative | Using the Power of Humaaans by Pablo Stanley
Brand Story
A brand story conveys facts and feelings that aim to inspire an emotional response between you and a consumer. In other words, it's your origin story:
What You Do.
Begin to introduce your personality.
Identify the industry you are in.
Tell your personal story that motivated you to begin your business.
Why You Do It.
Express the problem within your industry.
Identify the key pain point your primary persona faces.
Paint a picture as to why your specific business exists.
How You Are the Solution.
Address who you help; your primary persona.
Explain how you help your primary persona.
Express how you are different compared to your competitors.
We believe that a well-written brand story is divided into 3 concise paragraphs, with each paragraph addressing the above, and is typically written from the first person ('we', 'I' or 'business name') with both personality and confidence.
The purpose (or benefit) behind having a well-written brand story is to:
Provide you with a clear narrative when introducing or talking about your business.
Be a guiding compass when struck with important decisions.
Resonate on a personal and emotional level with your customers.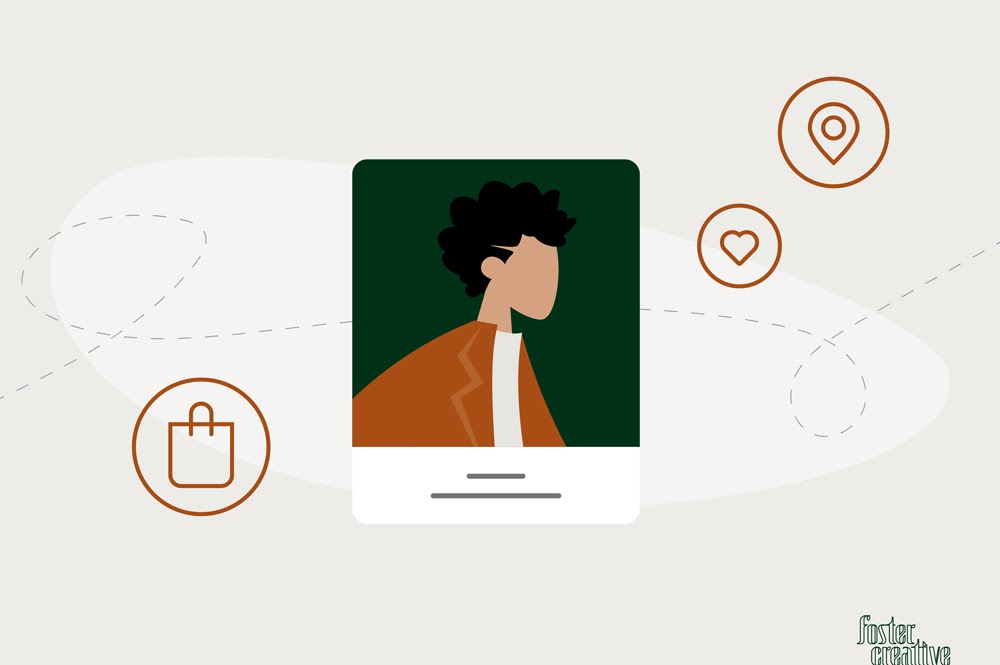 Graphic Developed by Foster Creative | Using the Power of Humaaans by Pablo Stanley
Primary Persona
A primary persona, also referred to as a target market, is a fictional character used to identify your ideal customer.
The key to building a primary persona is to be as specific as possible; the more specific you are, the greater the chance you have at finding creative solutions to reach them. Which leads to saving less time, energy and money spent to acquire and transform them from lead to a customer.
When crafting your primary persona together consider asking yourself the following questions, as if you are filling out an in-depth social media profile:

Who do they idolize or look up online?

What is their age range?

Where are they located?

When do they seek your type of product or service?

Why do they use your type of product or service?

How do they use social media?

It is important to note that you can have multiple persona's, as not every customer you want to acquire is the same. They should have different traits, responses and sometimes needs, compared to your first persona. We recommend starting with a minimum of 2 crafted personas to get you started; as you begin to grow your business, and come across new customers, their needs may naturally identify as a new persona to build around.
The reason for having a detailed primary persona is to:

Help you invest in the right type of marketing to attract your persona's attention.

Leverage and/or add extended value to your products or services that would attract your type of buyer.

Provide support when evaluating if a potential client is the right fit.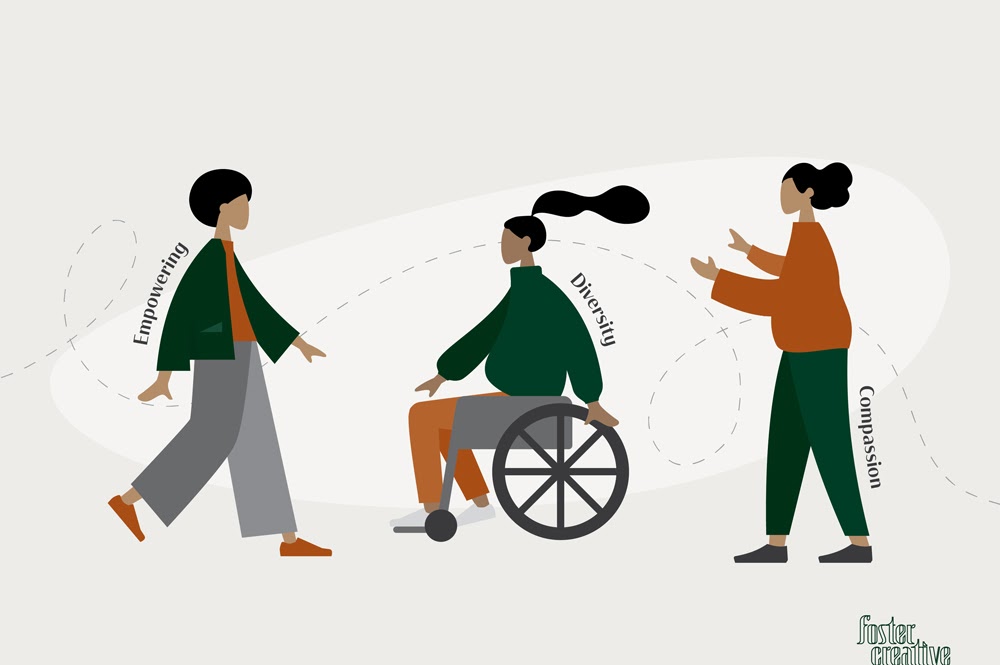 Graphic Developed by Foster Creative | Using the Power of Humaaans by Pablo Stanley

Brand Values
Brands values, sometimes referred to as core values, are the guiding principles, morals or essence of your business personality.
Referencing back to our analogy, of seeing a brand as a person, brand values are identical to the values we have as individuals. They are what motivates us to make decisions, establish our beliefs and attribute our attitudes or actions to someone or something.
The common misconception we all make around brand values is that they have to be stiff, corporate and traditional; such as dependable, honesty, loyalty, efficiency, and professionalism. Your brand's values, aside from being something you can follow through with, should be: as one-of-a-kind as you, have a fresh perspective and above all else represent the type of personality you wish to have synonymous with your brand.
We encourage entrepreneurs to select 3 – 5 mindful values, as well as, define the meaning they hold within your business. Utilize these creative methods to craft your brand values:
Brainstorm; write down any and all possible values you feel your business wishes, or is already, doing that is noteworthy.
Lean into utilizing tools, like a thesaurus, that will assist you in sifting through words and uncover engaging values.
Reference customers negative experiences they've had from similar services or products, and see if you can transform them into your valued strength.
Reach out to close friends, family or business besties who can provide a fresh perspective on what you naturally do exceptionally well.
The benefit of having comprehensive brand values is to:
Maintain your brand's authenticity.
Shape your brand's culture; especially when working with others.
Assist with shaping the personality of your content; tone and voice.
When Should You Begin Developing Your Brand Foundation?
Why wait?
If you have the inkling to start out as a freelancer or are wanting to drive right into the spirit of being an entrepreneur; that is the prime time to start. During the development stage of establishing your style of a business plan or strategizing how to begin your business is when you will want to invest your time establishing your brand. The sooner you are able to outline the key elements of your brand, the sooner you will have an easier time tackling the other hurdles of being a business owner.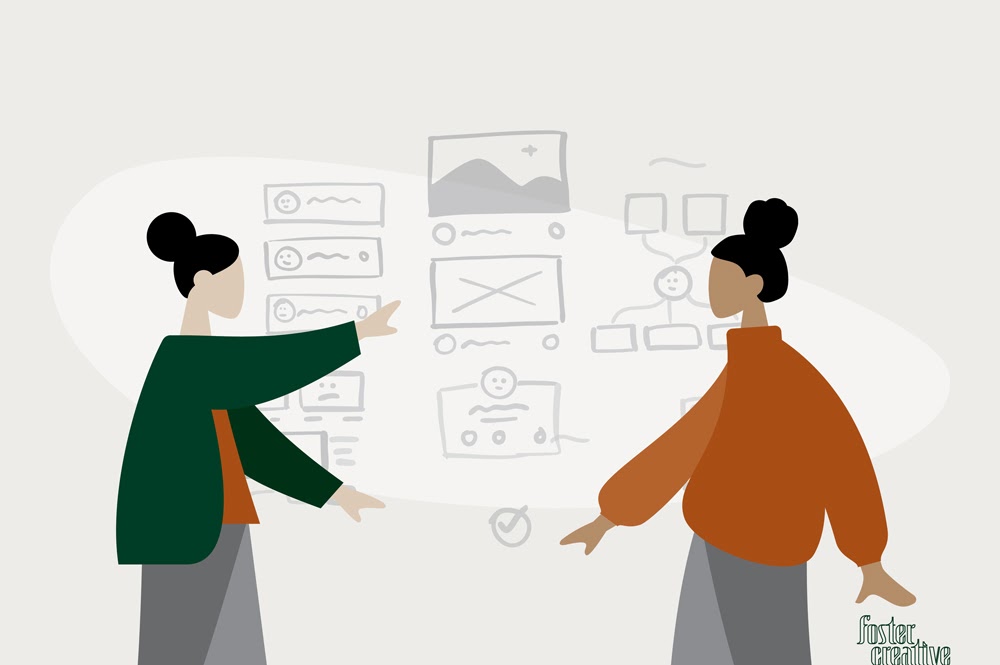 Image Caption: Graphic Developed by Foster Creative | Using the Power of Humaaans by Pablo Stanley
Remember, there are parallels between brand foundation elements and how they can ease obstacles that you will face as an entrepreneur:
Brand Story —> What is my elevator pitch when networking?
Primary Persona —> How do I make my new product or service attractive to prospective buyers?
Brand Values —> Does this particular freelancer, or business, align with my values prior to working with one another?
On the other side of the spectrum, if you happen to be at the launch stage or have already been in business for a few weeks, months or years; it's never too late to take an audit of what you have and see what areas needs to be strengthened. The strongest entrepreneurs, businesses or brands are ones who embrace growth and challenge themselves to take on change. Although it may be considered 're-branding' or a 'brand re-fresh' it doesn't mean you are losing the existing equity you have developed; you are simply strategically evolving into your next phase of growth.
________
Foster Creative is a studio located in the Lower Mainland, BC, specializing in Brand Development, Website Development and Brand Application. Co-Founders, Natasha and Marie, develop curated brand and website strategies that guide passionate entrepreneurs towards clarity to stand out confidently among their competitors.
Discover how they foster a strong foundation for passionate entrepreneurs to build their business on: www.fostercreative.ca
WHO WE ARE
Women Who Freelance is a growing community of women freelancers and entrepreneurs in Canada, gathering together to network, collaborate, and thrive.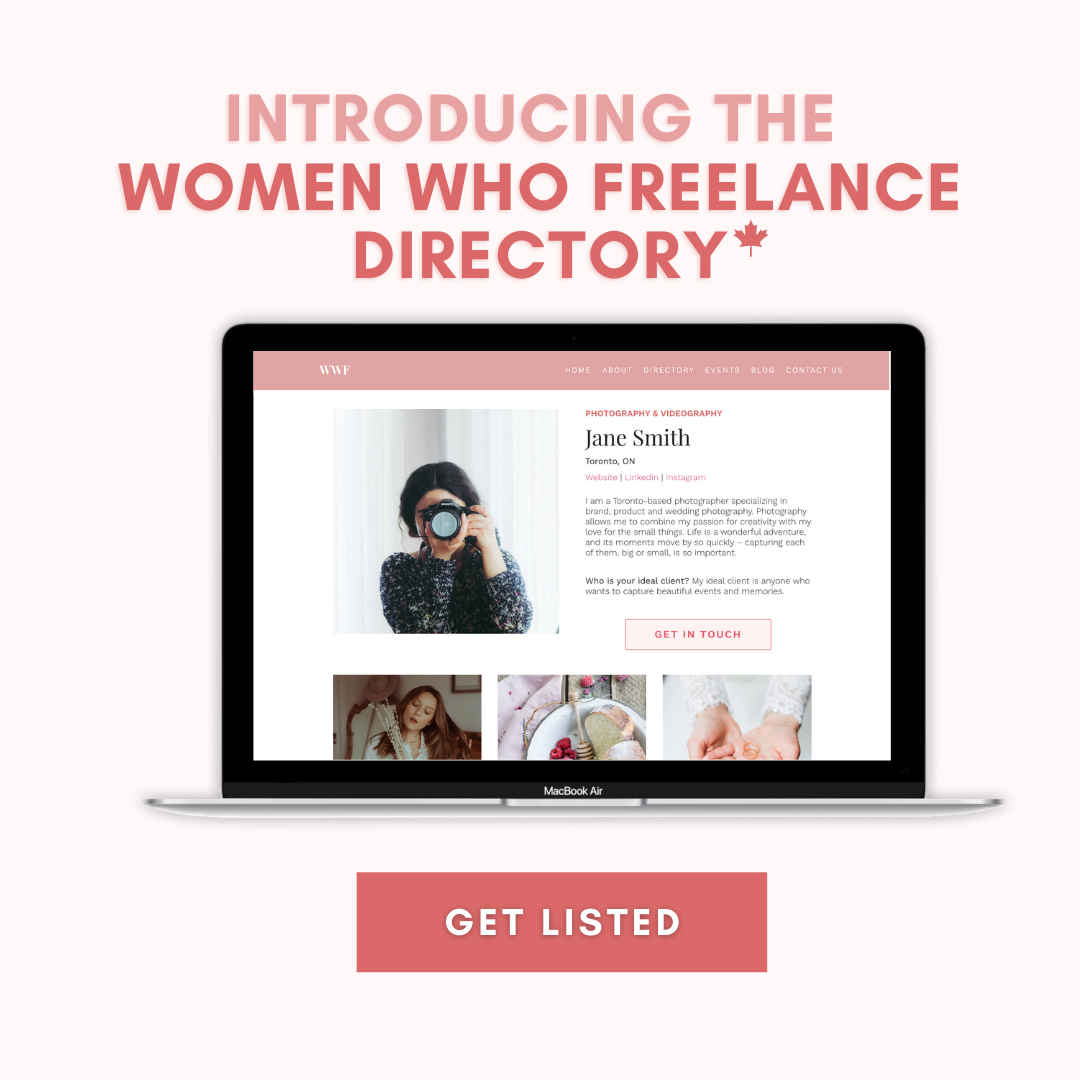 Discover the benefits of QuickBooks and some of the top tips from Sal Rezai, founder of Accounting By Sal.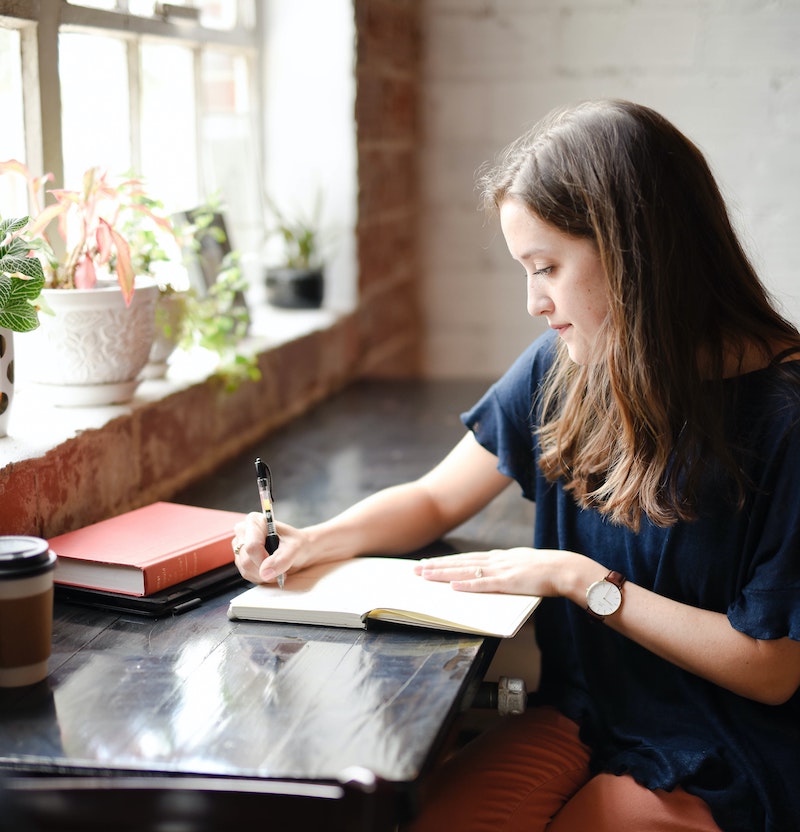 Become a contributor!
Do you have any practical freelancing advice you would like to share with the community? Become a featured guest writer for the Women Who Freelance blog. Give us a shout!